pacific coast highway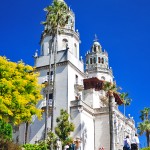 This is Hearst Castle: opulent, obsessive, and almost obscene. It's a must-see stop in San Simeon along California's Pacific Coast Highway.
Just a few miles north of Hearst Castle along the Pacific Coast Highway–if you're driving with the windows open–you may catch a bit of a strong, "organic" scent on the wind. I'm not talking about the salty, seaweed-y aroma of the ocean. The smell I'm describing is worse. Much worse.
Gorgeous balmy weather. Cool sea breezes. Waves made for surfing. Beachfront bungalows. Oceanfront campsites. An artistic community. People so chill they actually take time to talk to perfect strangers. More than any other place in I've been to in the Golden State, Morro Bay embodies the essence of California cool.