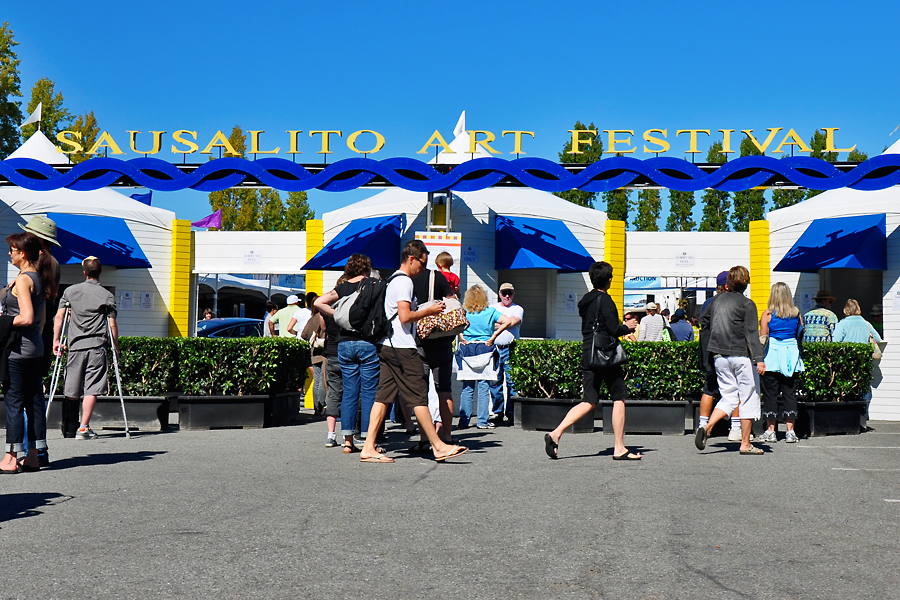 The Sausalito Art Festival is one of the largest and most renowned art festivals in the country, celebrating its 60th anniversary in 2012. Held every Labor Day weekend in Sausalito just north of San Francisco, the festival celebrates the artistic history and legacy of Sausalito.
What makes the Sausalito Art Festival some of the most fun you'll have on Labor Day weekend in the Bay Area?
Disregard those misappropriated Mark Twain quotes about the weather in this neck of the woods. September is when the weather gets AWESOME! Wear some layers, though–if you're visiting the festival for the day, it will most likely be cooler and a bit foggy in the morning and evening, but you'll probably have to strip down for the sunny, warm weather in the afternoon.
It's ART for Pete's sake–what's not to love? And not simply highbrow stuff either! The Sausalito Art Festival is all about celebrating the creative process, so you'll see artists using various mediums to express their ideas and showcase their crafts, from paint on canvas to textiles to copper wire to polymer clay. The best part is finding a piece that doesn't really appeal to you visually and learning how to appreciate it anyway.
The libations are a-flowin'! With scores of  wineries set up in the wine garden for oenophiles and craft brews available for beer lovers, festival goers have lots of options for sampling some of the best booze from the region. There are also many non-alcoholic drink options for teetotalers too.
No festival is complete without a little music, right? With a smaller stage for lesser-known and local acts plus a main stage for headliners, you'll be jammin' and dancin' the day away. The festival website usually posts a schedule to figure out who's playing where and when so you can plan your day accordingly. You might even find a new favorite band in the process.
If you're visiting San Francisco and the Bay Area and you're looking for a memento of your stay, the Sausalito Art Festival is the place to get it. Word to the wise–some of these painstakingly crafted pieces aren't cheap but they're well worth it to have something handmade and unique. Stash a C-note in your wallet for that special item that catches your eye.
The Sausalito Art Festival welcomes artists from around the United States and the world so be prepared for some  incredibly creative, thought-provoking art that will make you struggle with questions of aesthetics, taste, and the subjective and leave you asking the question "Why is this art?"
This festival is the one thing that makes me want to go back to San Francisco year after year expressly for Labor Day weekend, and although I've been foiled by other obligations elsewhere on the same weekend, I hope I have the opportunity to visit again soon.
I love attending festivals whenever I travel–do you? What's your favorite festival to go to? Do you travel especially to attend?