Canada
Editor's Note: Weekend Wanderlust for One is a series where I give my favorite bloggers a $500 budget and ask them to plan a weekend getaway less than 4 hours away from their hometowns that lasts 3 days and 2 nights for 1 traveler. The blogger who answers the challenge this month? Gray Cargill of Solo Friendly.
When I visited Montreal in November 2009, I hiked up through le Parc du Mont-Royal on a bitterly cold and foggy day. Upon arriving at the Chalet du Mont-Royal at the top of the Parc I found that I wasn't the only person looking for a little shelter. This image of rock pigeons nested in the window ledges of the Chalet is among the most enduring of the time I spent in Montreal.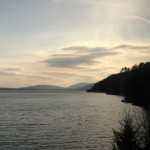 I had come to Montreal—alone—for three days of sightseeing, the pursuit of gastronomic pleasures, and a dose of the unfamiliar.